Getting to Know the General Board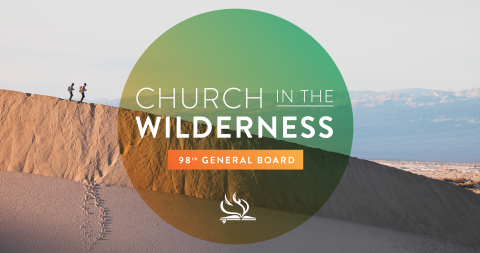 The General Board is composed of district superintendents, assigned ordained ministers, and lay leaders representing the global church and elected by the General Assembly. Convening in late February each year, the board has governing responsibility for the global Church of the Nazarene between sessions of the General Assembly. The General Board carries out the corporate business of the denominational offices.
General Board Standing Committees
Executive Committee
Board of General Superintendents — Eugénio Duarte, David Graves, David Busic, Gustavo Crocker, Filimão Chambo, Carla Sunberg
President — Robert Brower
Vice President — Min-Gyoo Shin
Secretary — Gary Hartke (ex-officio)
Treasurer — Keith Cox (ex-officio)
Global Missions Director — Verne Ward III (ex-officio)
Global Administration and Finance Committee
Chair — Joel Pearsall
Vice-Chair — Terry Rowland
Recording Secretary — Bob Brower
Global Missions Committee
Chair — D. Geoffrey Kunselman
Vice-Chair — C. Dale Thistle
Recording Secretary — Cheryl Crouch
Global Education and Clergy Development
Chair — Randall Craker
Vice-Chair — Stanley Ushe
Recording Secretary — Leonila Domen
Local Church Ministries
Chair — Min-Gyoo Shin
Vice-Chair — Ángela Moreno
Recording Secretary — Philip Weatherill
General Board Members by Region
53 Total Members
USA/CANADA — 22 members
MESOAMERICA — 7 members
SOUTH AMERICA — 7 members
EURASIA — 7 members
AFRICA — 6 members
ASIA-PACIFIC — 4 members
The Board of General Superintendents opened the 98th session of the General Board by leading a concert of prayer for each of the six regions of the Church of the Nazarene, remembering especially the plight of those in Ukraine and asking the Lord to restore peace and safety to the region. Following the time of prayer, David Busic delivered the annual Board of General Superintendents' Report.
Busic's report, titled "Church in the Wilderness," addressed the many challenges the church has faced in the last year. He reminded listeners that "in Scripture, the wilderness is not a place of punishment—rather, it is a place of testing."
The benefits of wilderness are clear, Busic said. By God's grace, wilderness is "a place of preparation that refines our character, sharpens our focus, renews our dependence upon God, and prepares us for new ministry."
Busic closed the report with a powerful admonition to embrace the future with confidence, acknowledging that although "the way forward may look different than the past, the One who is the way, the truth, and the life' remains the same."
General Board members responded to the report with enthusiastic approval. This year's General Board was held virtually with members from 17 different time zones.
Read the full 98th general board report.
Learn more about the General Board.
Holiness Today, May/June 2022
Public